Corporate & People
·
Osijek, Croatia
·
Hybrid Remote
HR Business Partner (m/f)
We are looking for a Human Resources Business Partner (HRBP) to provide comprehensive People support to managers and employees at a local level in Osijek in Croatia. As an HRBP, you will offer advice and guidance on various People matters, including leadership, performance management, competency development, rehabilitation, work environment, and recruiting and onboarding. This role requires a broad People perspective, focusing on aligning People practices with organizational goals.

You will be part of Enea's global People & Culture team which means you will also be involved in the work to build and improve people practices and processes across the company. The Osijek site is to a large extent focused on R&D and Services & Support which means you will deal mainly with Software Engineers.

This is a temporary position that will cover maternity and parental leave. The assignment is expected to commence preferably in November 2023 and will last approximately 12 months.

In summary, this role is a mix of local support and global improvement work in a software development environment. If you have the people skills and are interested to challenge our current ways of working, this might be the right role for you.

Job Responsibilities and Tasks
Drive recruitment and selection process for Osijek mainly
Prepare work contracts, addendums, and work contract terminations 
Drive HR topics for Croatia (performance reviews, salary review, etc..)
Provide certificates on employee's request
Assist with employee relations matters
Assist in the development of personnel policies and procedures
Establish effective working relationships with other internal departments to respond to employee-related matters in a timely manner
Drive monthly salary preparation process (work hours, overtime, vacation days, sick leaves, on-call duty, etc.)
Updating HR databases (e.g., new hires, separations, vacation, and sick leaves) 
Keeping personnel records up to date 
Preparing different reports on HR metrics  
Collaborate with Global HR team members on various improvement initiatives, e.g. talent acquisition, performance management, and employee engagement initiatives
Location topics and tasks (equipment purchasing, supplier coordination, team events, facilities, etc…)
Your skills
Hold a university degree in an appropriate academic field or possess equivalent experience
Demonstrate knowledge and experience in Croatian labor law
Have 3+ years of work experience in the field of HR
Proficient in both written and verbal communication in Croatian and English
Great attention to detail, analytical skills, and systematic approach to work 
Windows, MS Office and MS Teams
Previous experience of working with HR software is a plus 
High-level of integrity, confidentiality, and commitment
Health and Safety Specialist certificate is a plus
Key Competencies
Be a team player and capable of building long-term relationships
Possess a coaching mindset, enjoying motivating, challenging, and engaging individuals at all levels of the organization
Find motivation in delivering excellent service
Feel comfortable in an advisory role and capable of working independently
Eager to challenge conventional ways of working and building employee centric people processes
Self-driven, non prestigious and curious of new ways of working within the People field
Your benefits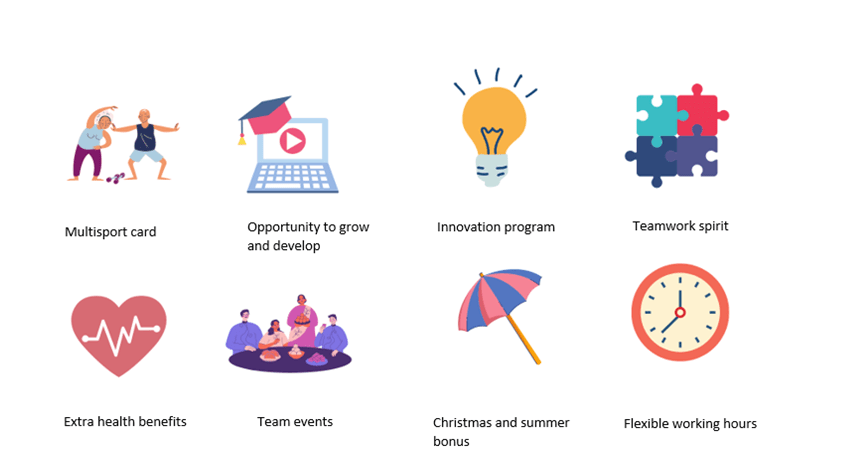 We'd love to hear from you!
If you are interested, please submit your CV in English by 30.09.2023.
Candidates that pass pre-screening will be contacted.
Department

Locations

Remote status

Hybrid Remote
We care about you
At Enea, we believe our employees are our most important asset and are dedicated to their well-being. We encourage, guide, and support employees, helping them to advance their careers while contributing to customer projects and to the success of our company.
We want our employees to be happy and healthy and encourage activities beyond work responsibilities. For example, we contribute to sporting activities, organize social events, celebrate successes and support all efforts for employee well-being. With us, you will find a stimulating work environment, where we reward extraordinary achievements and allow people to grow in their professional roles.
About Enea
Enea is a world-leading specialist in software for telecom and cybersecurity. The company's cloud-native solutions connect, optimize, and secure services for mobile subscribers, enterprises, and the Internet of Things. More than 100 communication service providers and 4.5 billion people rely on Enea technologies every day.
Enea has strengthened its product portfolio and global market position by integrating a number of acquisitions, including Qosmos, Openwave Mobility, Aptilo Networks, and AdaptiveMobile Security.
Enea is headquartered in Stockholm, Sweden, and is listed on Nasdaq Stockholm
Corporate & People
·
Osijek, Croatia
·
Hybrid Remote
HR Business Partner (m/f)
Loading application form